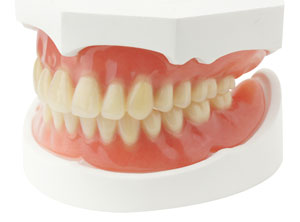 Full Dentures
Full dentures replace an entire upper or lower set of teeth. Full dentures contain a complete set of false (but natural-looking) teeth that are fixed to a base that mimics the color and appearance of your gums. An upper denture sits on your gums and has a plate that covers the roof of your mouth to help it stay in place. A lower denture is shaped like a horseshoe that fits snugly onto your bottom gums.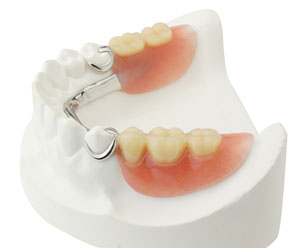 Partial Dentures
When you're missing most, but not all of your teeth, partial dentures are a good solution for replacing them. Like full dentures, partial dentures also contain a set of false teeth fixed to a gum-colored base. With partial dentures, there is a metal framework underneath the base that attaches to your existing teeth.
Denture Repair
Over time, your mouth changes shape and you may notice that your dentures aren't working or fitting properly anymore. It is likely that you will need to replace or repair your dentures every five to seven years. If your dentures need a reline, rebase, or general repair, our skilled team can take care of your needs.
Denture Reline:

This simple process reshapes the underside of the denture. It is often used to adjust the fit if your jawbone and tissues change.

Denture Rebase:

A rebase is similar to a relining. The main difference is that it replaces the entire base instead of just the tissue-bearing surface of the denture.

Denture Repair:

We also perform more general repairs for fractured, damaged, or broken dentures.