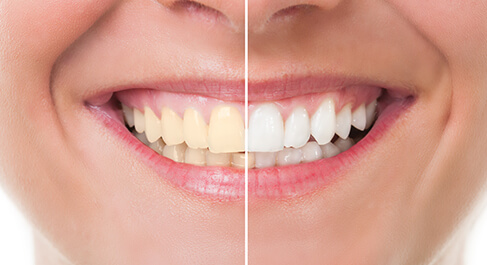 ZOOM!® One-Visit Whitening
If you're looking for quick whitening results for an upcoming event, or just because, our ZOOM! in-office whitening could be the perfect solution for you. We take care of the entire treatment while you sit back and relax in one of our comfortable dental chairs. We apply the ZOOM! whitening gel to your teeth and use the ZOOM! LED light to speed up the whitening process. In as little as one hour, you can leave our office flaunting a smile that's up to eight shades lighter.
Custom Take-Home Whitening Trays
Do you not have the time to fit an in-office whitening session into your schedule? No worries, we still have an effective whitening treatment for you. Our custom take-home trays allow you to brighten your smile at your own convenience in the comfort of your own home. With a quick impression of your teeth, we'll design your custom-fitted whitening trays and send you home with bleaching gel, as well as a set of instructions.
One-Size, Take-Home Whitening Trays
Have at-home remedies and store-bought whitening strips left you feeling frustrated and disappointed with the results? Our one-size whitening trays are a budget-friendly way to get a bright, red carpet-ready smile. Like our custom trays, you can whiten your teeth at home whenever it's most convenient for you. Professional one-size trays produce better, longer-lasting results compared to over-the-counter alternatives.